February 10, 2020
Posted by:

EuIndia Chambers

Category:

News
Sinn Féin president Mary Lou McDonald has described the Irish general election as "something of a revolution in the ballot box".
Counting is continuing and the first results have come in, with Sinn Féin winning the most first preference votes.
With all first preferences counted, it has 24.5% compared to 22.2% for Fianna Fáil and 20.9% for Fine Gael.
No one party will win enough seats for an outright majority.
Polling in the election closed at 22:00 local time on Saturday.
Ballot boxes from across the 39 constituencies were opened at 09:00 on Sunday.
Many counts have finished for the night and will resume at 10:00 on Monday, but some are continuing.
Sinn Féin ran 42 candidates across the 39 multi-seat constituencies, about half that of both Fine Gael and Fianna Fáil, which will have a knock-on effect on the number of seats it can secure in the 160-seat Dáil (Irish parliament) where 80 seats are needed for a majority.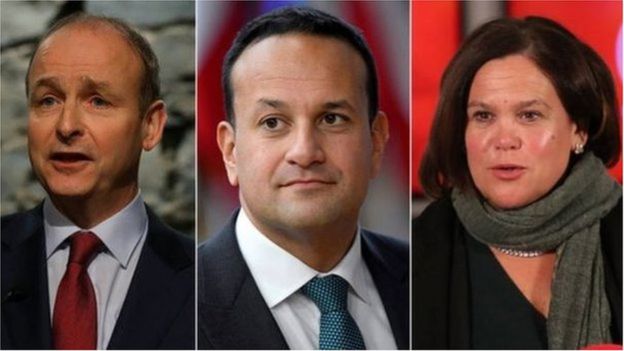 What kind of government could be formed?
Once the final number of seats for each party is known, leaders will try to form a coalition government in order to avoid another general election.
Before the election both Fine Gael and Fianna Fáil said they would not enter coalition with Sinn Féin.
Arriving at the RDS count centre in Dublin on Sunday afternoon, Sinn Féin leader Mary Lou McDonald said she was exploring options to see if it would be possible to form a government without either Fine Gael or Fianna Fáil.
On Sunday evening taoiseach (Irish PM) and Fine Gael leader Leo Varadkar said it would be "challenging" to form a government.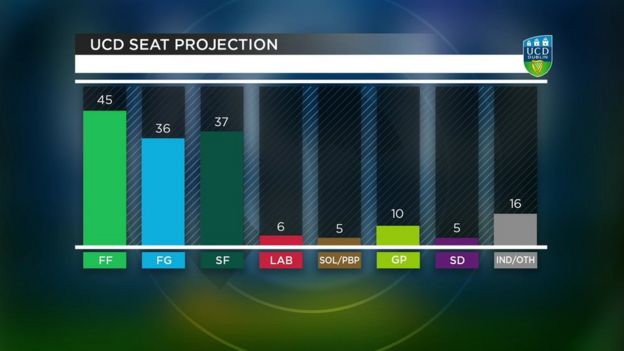 He said his party has consistently ruled out forming a coalition with Sinn Féin "in large part because of their policies in relation to crime, tax and the way the economy and society should be run and also our deep concerns about their democratic structures.
"We don't believe a coalition between Sinn Féin and Fine Gael is a viable option," he said.
He said a "forced marriage would not result in a good government."
Fianna Fáil leader Micheál Martin did not rule out working with Sinn Féin, but said "significant incompatibilities" still existed.
He said reports suggested that his party "would be the largest". He added that he was a "democrat" and respected the vote of the people.
What could Sinn Féin's surge mean for the overall result?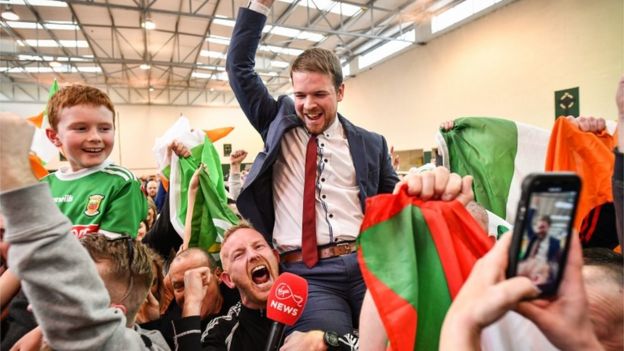 Following the last election in 2016 Sinn Féin had 23 seats in the Dáil (Irish parliament).
There are 160 seats up for election this time around, and Sinn Féin is set to dramatically increase how many it holds after it won the most first preference votes.
Ms McDonald said this election was about "change".
She topped the poll in her four-seat Dublin Central constituency.
"The frustration people have felt for a long time with the two-party system, whereby Fine Gael and Fianna Fáil handed the baton of power between each other – that's now over," she said.
"We now have a very substantial mandate."
She said she was exploring options to see to see if it was possible to form a government without Fine Gael and Fianna Fáil.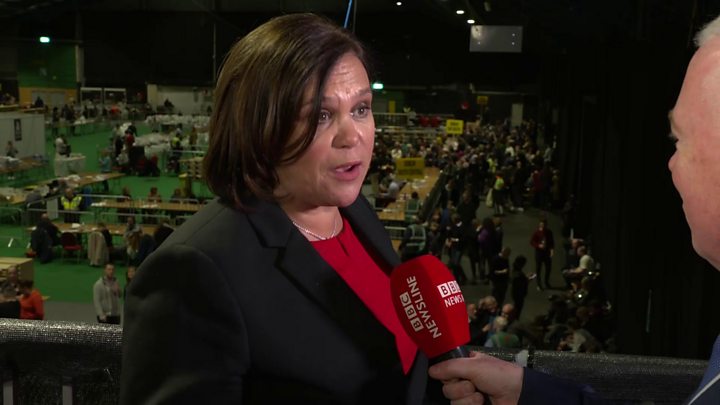 ---
'No part of the country untouched by Sinn Féin's surge'
By Chris Page, BBC News Ireland Correspondent
Sunday evening is seeing a cascade of results from across the country.
Many early victories have gone to Sinn Féin – with no part of the country looking untouched by the party's surge.
While the general picture is becoming clear – the final numbers will be determined by the process of numerical preferences trickling down through the various stages of the counts.
Sinn Féin surpluses will be very much in play here – as the party was only running one candidate in many constituencies, the destination of the transfers from the successful runners is set to have an impact on what other parties take the seats.
The latest seat projection by University College Dublin, for RTÉ, puts Fianna Fail as the largest party on 45 seats – with Sinn Féin on 37 and Fine Gael on 36.
Plenty of counting is still to come.
---
How is Fine Gael performing?
Fine Gael has been in government since 2011, firstly with the Labour Party and then with independents and with a confidence and supply deal with Fianna Fáil.
It looks set to lose seats for the second election in a row, but that does not necessarily rule it out of forming another government.
Its share of first precence votes dropped from 25.5% at the last election to 20.9%.
Party leader Leo Varadkar reiterated that he did not want to enter into government with Sinn Féin and said Ms McDonald had not been in contact with him.
The taoiseach said he was "not really" disappointed that he did not top the poll in his own constituency. He did get an increase in his votes compared to the last election.
He added it was now clear there was now a "three-party system".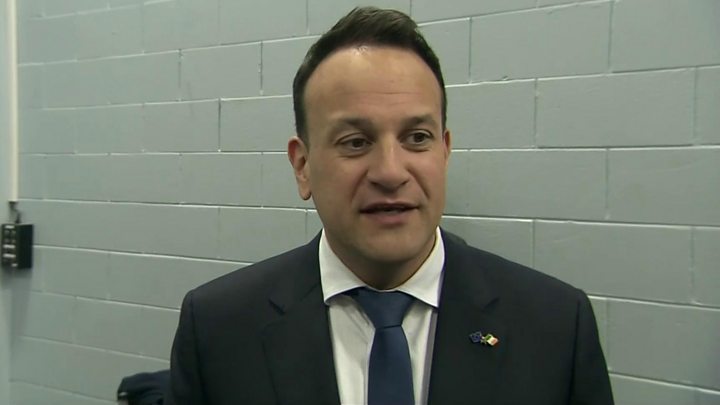 Will Fianna Fáil return to government?
Fianna Fáil has been in government for more years than anyone else since Ireland became independent, but it has not been the ruling party since 2011.
Earlier on Sunday Micheál Martin said reports suggested his party "would be the largest" but that it was early days.
He said there was a lot of "volatility", adding people who could not get elected in the local elections had been successful in this one.
He said the most important thing when forming a government was "compatibility in the programme for government" and that formation of a government was going to be very difficult.
Mr Martin added he was a "democrat" and respected the will of the people.
Despite previously saying he would not govern with Sinn Féin he has now not ruled that out.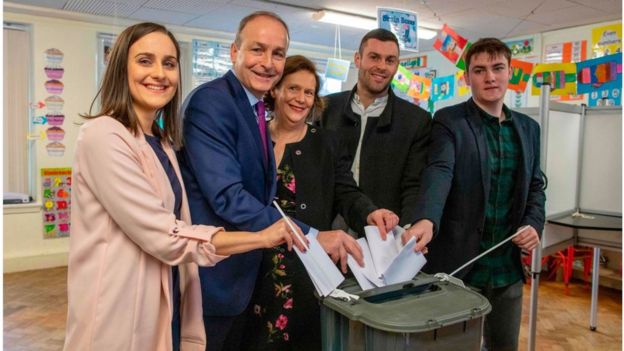 What about the smaller parties?
The Green Party is also set to increase the number of seats it holds.
Green leader Eamon Ryan, who was elected on the first count for Dublin Bay South, said his party would play its part in talks to form a government.
Ruth Coppinger from the left wing alliance Solidarity-People Before Profit lost her seat.
Labour Party leader Brendan Howlin said it had not been a good day for his party as it had been squeezed by Sinn Féin.
The party's former leader Joan Burton lost her seat in Dublin West. She was first elected to the Dáil in 1992.
The Social Democrats co-leader Catherine Murphy said it was "historic," saying there had been a "seismic shift".
She said she knew there was a wind in the Sinn Féin sail.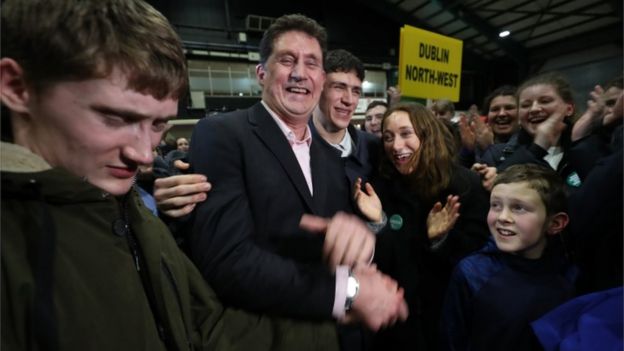 The Green Party secured 7.1% of first preference votes, followed by Labour (4.4%), Social Democrats (2.9%), Solidarity-People Before Profit (2.6%).
Aontú (1.9%) independents (12.2%) and others (1.3%) accounted for the rest.
An exit poll – commissioned jointly by Irish national broadcasters RTÉ and TG4, as well as The Irish Times and University College Dublin suggested a move toward Sinn Féin among younger voters, with the party receiving the largest number of first preference votes among 18-24 years olds (31.8%).
The majority of voters over the age of 65 appear to have given their first preference to Fine Gael or Fianna Fáil.
What voting system does the Republic of Ireland use?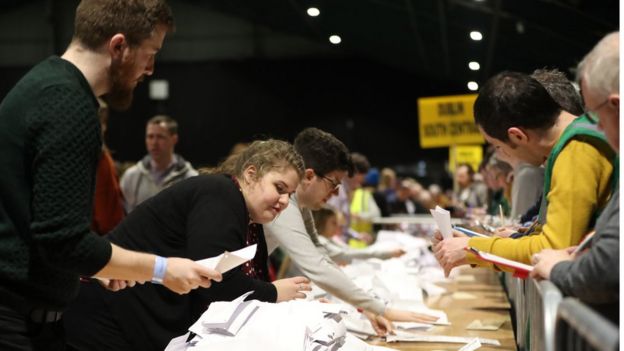 Ireland's elections are carried out under the proportional representation (PR) voting system, using the single transferable vote (STV). Voters wrote "1" opposite their first choice candidate, "2" opposite their second choice, "3" opposite their third choice and so on.
This means that the picture presented when the first preference votes are counted does not completely reflect the final outcome.
What happens next?
Newly elected TDs will gather on 20 February .
The ceann comhairle, or speaker, is automatically re-elected.
In most situations, the speaker does not vote, so a government will need 80 TDs to hold a majority.