December 20, 2019
Posted by:

EuIndia Chambers

Category:

News
A jailed Catalan separatist leader should have been given immunity to take up his seat in the European Parliament, the EU's top court has ruled.
The European Court of Justice (ECJ) said that Oriol Junqueras had become an MEP the moment he was elected in May, despite being on trial for sedition.
Junqueras was later convicted and jailed for his role in an illegal 2017 Catalan independence referendum.
The separatist leader said on Thursday that "justice has come from Europe".
"Our rights and those of two million citizens who voted for us have been violated," he tweeted, adding: "Annulment of the sentence and freedom for all!"
However, the ruling does not address Junqueras's prison term.
Two other top Catalan separatists were elected as MEPs in May and the ruling may affect them too. Former Catalan President Carles Puigdemont and Toni Comin fled to Belgium before Spain could detain them.
However, they could not take up their seats in European Parliament as, like Junqueras, they had not sworn the Spanish oath.
Spanish law requires new MEPs to swear an oath on the constitution in Spain. Junqueras, the former Catalan vice-president who has been in custody since November 2017, was not allowed to do this while on trial and in provisional detention.
What has the court ruled?
On Thursday, the ECJ ruled that Junqueras should have "enjoyed the immunities guaranteed" by EU law after the election results were confirmed.
It added that if Spanish courts had wanted to maintain his detention to prevent him from travelling to the European Parliament for his inauguration, they should have requested that Parliament waive his immunity.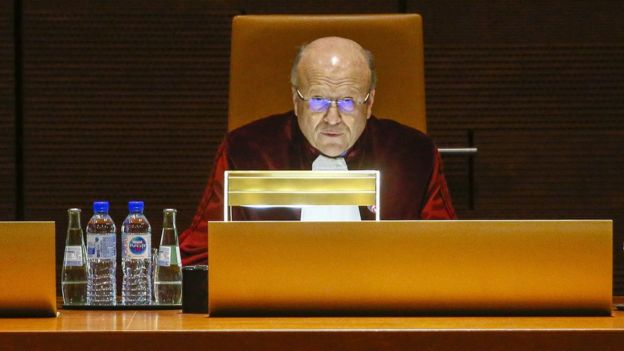 "The purpose of that immunity is to allow such persons to… travel to and take part in the inaugural session of the newly-elected European Parliament," the ruling stated.
Responding to Thursday's ruling, Mr Puigdemont tweeted: "Immediate freedom for @junqueras."
The immunity rules protect an MEP from any investigation or prosecution based on their opinions or votes as an MEP. But an MEP found to have committed an offence cannot claim immunity.
Junqueras was sentenced to 13 years in jail for sedition and misuse of public funds by the Supreme Court in October. Eight other Catalan separatists also received jail sentences.
After Thursday's ruling, his defence team immediately filed an appeal to Spain's Supreme Court over the legitimacy of his trial and conviction.
Massive street protests have periodically erupted in Catalonia since the separatist leaders were jailed, with hundreds of people injured in rioting.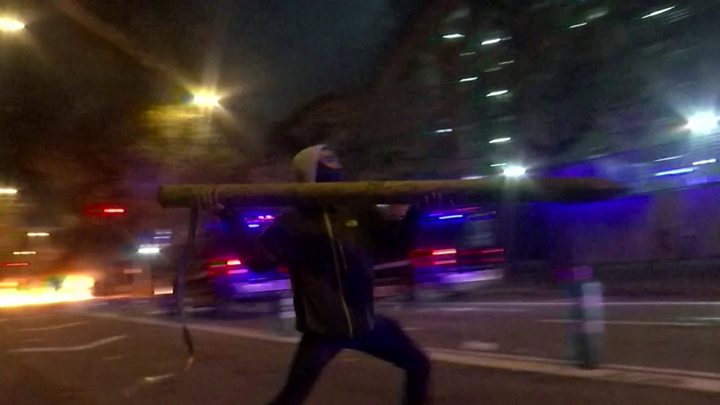 During Barcelona's march against Real Madrid at the Nou Camp on Wednesday night, protesters demanding Catalan independence clashed with police outside the ground while thousands of fans held up banners inside the stadium.
What is the background to the conflict?
Catalan nationalists have long complained that their region, which has a distinct history dating back almost 1,000 years, sends too much money to poorer parts of Spain, as taxes are controlled by Madrid.
In 2017, police and protesters clashed in the streets when Catalonia's pro-independence leaders went ahead with a referendum, which had been ruled illegal by Spain's constitutional court.
The Catalan regional parliament subsequently voted to declare independence from Spain. Angered by that, Madrid imposed direct rule by invoking Article 155 of the constitution – a first for Spain.
The Spanish government sacked the Catalan leaders, dissolved parliament and called a snap regional election on 21 December 2017, which nationalist parties won.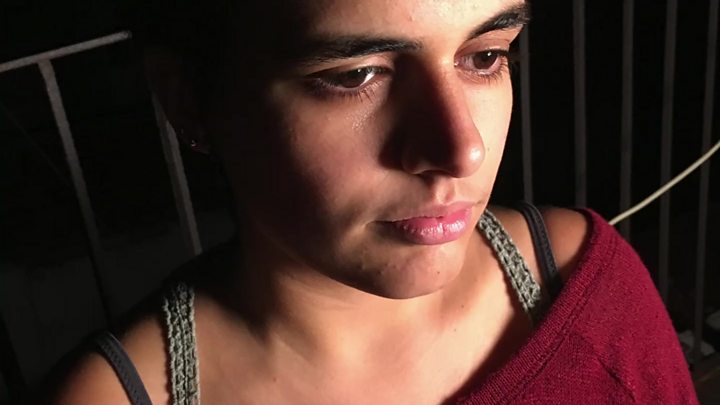 In June 2018, Catalan nationalists regained control of the region from Madrid's direct rule after a new government was sworn in. Catalonia remains deeply divided and the separatist movement is still simmering.
At their trial Junqueras and other separatists said they were victims of an injustice and "false" charges.
In a separate development on Thursday, a court in Barcelona banned Quim Torra, the pro-independence leader of Catalonia's regional government and a close ally of Mr Puigdemont, from holding public office for 18 months.
The ruling, which relates to Mr Torra's refusal to order the removal of separatist symbols from buildings during an election campaign, will only come into effect if it is approved by Spain's Supreme Court.